News
---
---
---
---
---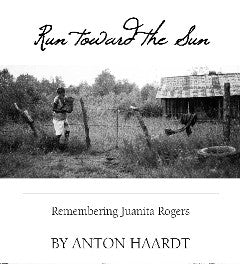 Run Toward the Sun: Remembering Juanita Rogers By Anton Haardt
Run Toward The Sun: Remembering Juanita Rogers
is a supernatural Photo Memoir of Juanita Rogers, a black self- taught artist from the South . This is a story about a African -American woman and a young privileged white woman -both artists . Behind this double biography is a soulful sub-text that acknowledges the force of friendship, and the fears and strengths that shape and change the lives of not only these two women, but all of us. A story of two bold women, both who chose not to make safe choices. One is rich and one is poor. Both are from the South, and both are artists. They become friends. Through their eclectic friendship, each on their personal quest, they travel through their own rite of passage and gain a better understanding of themselves and each other.-----a story woven with a curious thread...and the devil may care duet of this unusual friendship is true.
I first met Juanita Rogers more than thirty-five years ago, and became a frequent visitor to her home near Montgomery. Over the years I amassed many hours of audio and video-taped interviews with Juanita Rogers and her rural primitive surroundings, and photographed her and many of her creations.
The book is filled with Photographs and quotes from Rogers . The book also contains one essay on Juanita Rogers and her work. Folk art scholar,Tom Paterson, has provided an art-historical appraisal of Juanita's sculptures and paintings.
Hers is a story of an incessant drive for creative expression amidst poverty, social struggle, and tremendous physical disability. Anton Haardt
SUMMARY
Folk artist Juanita Rogers was an uneducated black woman living in a dilapidated shack outside Montgomery, Alabama. She had a powerful creative talent and mystifying spirit. Juanita´s crumbling sculptures were made of mud, moss and bones: frightening evidence of compulsion. The haunting figures were part of Juanita´s stories of magic stones, nuns and graveyard dirt. Much defied logic. I visited her regularly and eventually became her confidant and the mender of her mud creations. I choose not to dismiss her as crazy but instead to explore the mystery of her creative drive. Our challenging climb to friendship continued til her death in 1985.The two of us through our struggles transcended our barriers and together united to preserve and further Juanita's mission. Run Toward the Sun is the celebration of this unique and obstinate artist and my quest to document and elevate her life´s work.

BEGINNING
In the intense heat of summer in Alabama, my life changed abruptly with a ringing telephone. While painting in my studio, a Social worker called seeking my assistance with self-taught artist Juanita Rogers. Juanita , a dark skinned proud woman, lived in a dilapidated shack and was destitute after the recent death of her husband. Her porch was filled with haunting clay sculptures: Ram men and Jungle women that resembled the animal-man masks of the Ivory Coast of Africa. Initially she distrusted my offer of friendship but through regular visits she slowly letting me enters enter her world, view her at work, and document her stories and memories. We formed a pack: I would help her with financial assistance in exchange for drawings.
MIDDLE
I investigated her world and she gingerly unfolded to me her stories of carnival trains nuns her illusory mentor , Stonefish. Her stories tangled my reality, and much of what she said contradicted and defied logic. Mr. Stonefish was an enigmatic character and forever absents. Her sculptures were reminiscent of voodoo but she denied any participation . The chronicles I made of her life was laddened with trails and our friendship was an uphill climb in which often she would not cooperate. I doubted my job with her and its intrusion on my own life. My home had become a mud hospital and my constant errands for Juanita took time away for my own artmakeing. Then in a strange twist one day she pointblank asked me if I was Stonefish...Verifying that she had never really believed her own stories. Feeling somehow that I could be her magic man , Mister Stonefish, and that she had trusted me finally gave me courage to continue.
ENDING
Besides her constant money issues, she had an ongoing health problem that she refused to deal with. She refused medical assistance. Not dealing with her health in a responsible way eventually causes her health to deteriotrate and finally she was unable to live in the rural area unattended. I reluctantly had to commit her to a hospital against her will or I knew she would die. This betrayal further unleashed doubt or questions as to what I should have done .The responsibility was a burden. Shockingly even though she at first threaten to blow of the heads of the doctors she quickly accepted her change and even seemed to enjoy the attention. Sadly the cancer had spread to all her body. As her condition worsened she let me comfort her and be her caregiver. Finally she trusted me. An abrupt end was coming and I sadly was losing my good friend. They lowered her casket into the red clay--the dirt that she so loved.
REFLECTION
Juanita and I shared an equal distrust of others , but in the end our trust for one another `prevailed. Juanita realized I appreciated her and her work. She showed me some of the primal spirit, so often lost today in our modern world.... The rhyme of self freedom Uninterrupted by an overdose of intellect. By breathing life into her sculptures and sharing them with me she symbolically revived herself and me. Juanita affirmed that through the process of creating one can reassemble reality and conquer fears, dreads, and alienation and find strength in ones self. Art can be more than a pretty picture to look at...also art can be nourishing and more important a powerful charm.
By way of comparison,
Run Toward the Sun: Remembering Juanita Rogers
bears thematic similarities to Los Angeles Times columnist Steve Lopez' non-fiction book The Soloist, in which Lopez, a relatively privileged Los Angeles journalist, befriends and assists a mentally ill man who lives homeless on the Los Angeles streets but turns out to be a musical prodigy and dropout from New York's Julliard School of Music. Lopez' book was recently turned into the popular Hollywood film of the same title, in which his character is played by Robert Downey Jr. and the homeless musician's character by Jamie Foxx.
Read more →
---
---
---
---
---
---